Rollable and Foldable Chess Boards
These two kinds of chess boards, both of them available in brown and white, are made from artificial material matching our plastic chess pieces. The rollable chess board comes with a board size of 43x43cm and a field size of 47mm. The foldable chess board is slightly larger with 49x49cm and 57mm and is now also available in black and white.
The newest extension to our product range are coloured versions of the large foldable board matching our plastic chess pieces.
We offer the following colours:
chessboard red/white - EAN 4260099740362
chessboard blue/white - EAN 4260099740379
chessboard green/white - EAN 4260099740409
chessboard pink/white - EAN 4260099740416
chessboard beige/blue - EAN 4260099740829

Following the linked picture on the right you can find our range of plastic chess pieces.
In the following you can find an overview over our full chess sets consisting of pieces, boards and bags:
chess set black/white E610 - EAN 4260099740560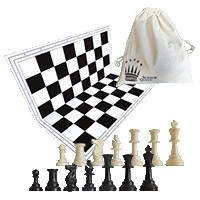 chess set red/white E681 - EAN 4260099740430
chess set blue/white E682 - EAN 4260099740423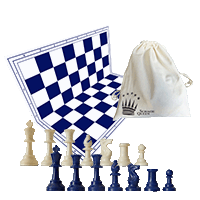 chess set green/white E683 - EAN 4260099740447
chess set pink/white E684 - EAN 4260099740454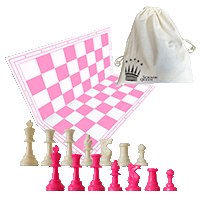 chess set beige/blue E685 - EAN 4260099740836