BACK in time for the new season in autumn 2014!

What is new?
- flag displaying the end of a time period (unfilled flag)
- flag displaying the end fo the thinking time (black flag)
- ON/OFF button on the bottom of the clock
- player buttons improved in handling
- newest GERMAN national league mode for season starting 2014
- longer battery life due to more economical energy use
- logo relief on the front
- displays updated to the newest standards with even better contrast
- adjusted battery case

ChessTimer "Silver"

- 12 pre set modes, each editable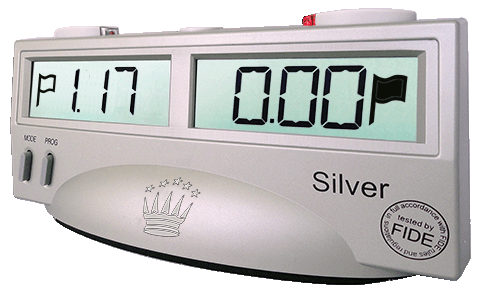 - including FIDE – thinking times - oficially permitted for tournaments
- user-friendly handling
- activateable move counter, time and moves correctable
- easy and fast penalty-time setting
- one of the largest displays on the market (1.1 inches) with large and clearly visible numbers
- two red lights displaying the active side (deactivatable if necessary)
- economical battery operation (4 mignon batteries type AA)
- dimensions: 7.78in x 3.34in x 3.54in
Since 2009 the Silver plus (refer to link picture on the right) has been allowing the use of our chess voice for visually disabled players and our electronic chess system.