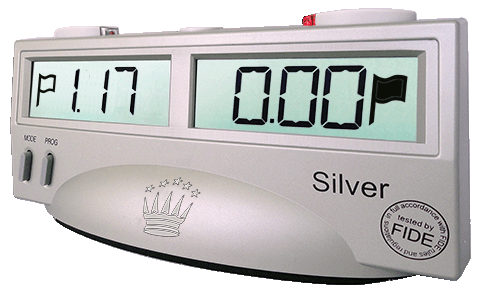 For over 30 years we have been active in chess. In 1989 the commercial company "Euro Schach & Spiel" was founded. In a complex new development of a modern chessproduct during 1994 and 1995 we participated in the development and production of the electronic chessclock 'GARDE electronic' for the first time. 
In 1998 the chessrange was separated into the company "Euro Schach Dresden". From the year 2000 onwards we started developing our own chess products, ths first one being the "ChessTimer Silver".
Meanwhile this electronic chess clock has been used successfully in over 150 important national and international chess tournaments and has there proved to be of value.
Since 2011 we have started to develop chess products especially suitable for teaching chess. Especially children love the new products, following a list of the newest developments:
innovation 2011 - Chess - more than a game  
2014 is another year of innvoation. We have just extended our product line by several new and innovative ideas and are in the planning of further ones. A young and professional team now attends the needs of this innovative product and helps defining our new image. Meet the team of ECI: